RM120.00
Specifications:
Gambir Gold Spray is specially designed to help man solve the problem of Premature Ejaculation. Nowadays, Most of the man also facing such problem. This is mainly due to the reason like, aging, unhealthy life style, stress and others. If you having such problem, you surely understand how it affect you in your daily life and what is the pain it bring to you. Gambir Gold Spray, is very effective in solving premature Ejaculation. Gambir Gold Spray not only help man who suffer Premature ejaculation, but also help those did not suffer premature ejaculation to delay their ejaculation time and hence, improve their satisfaction in sexual activity, not only to the user but also for his partner.
*Disclaimer: Result may vary depends on individual

Product Specifications:
Size: 10ml per bottle
Application: External use only
Type: Aluminium Bottle
Package includes: 1 bottle of Gambir Gold Spray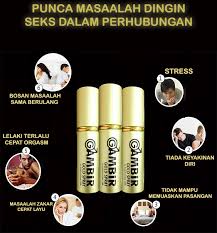 Frequent Asked Questions:
1) How to use it?
Spray Several times (2 to 3 times) on glan penis (the head) and coronal sulcus (the neck of penis). Apply it 20 – 30 minutes in advances before sex. Spray evenly so skin can fully absorbs it. You can massage the area so that it can gets applied evenly. Effective even wash and rinse.
2) Is it safe for oral sex?
Yes it is safe. If you desired for oral sex, you can apply Gambir Gold Spray, and wait for 30 minutes, then wash thoroughly with water before oral sex. No worry, Effective even wash and rinse.
3) Is it come with taste?
It is tasteless and colorless. (Not easily found by her)
4) How long its effective?
Normally, the effective time is about 60 minutes. (Effective time does not represent your delay time.)
*Disclaimer: Result may vary depends on individual
5) Is it safe to use? any side effects?
It is safe. No side effects. It is use of natural ingredients.
6) How do i know this is the genuine product?
You may check siri number (Covered by the security hologram label) on the packaging as follow: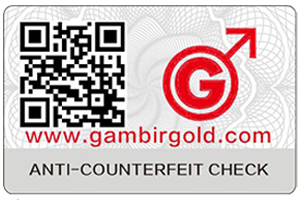 Simply log into Gambir Gold Website and key in the siri number to verify.